The average asking price in Auckland has fallen below $900,000 for the first time in 10 months, good news for house hunters and a sign of retreat in New Zealand's key market, Trade Me says.
Auckland's decline to $895,500 also drove the national average price down, to $632,800  – a 1.4 per cent dip compared with Auckland's 1.6 per cent drop.
"It can be unsettling for homeowners to see the value of their biggest asset shrink, but this is all part of a dynamic property market," said Nigel Jeffries, head of Trade Me Property. "Auckland's growth in the last five years couldn't continue indefinitely. We think we'll see a bit of a stagnant period continuing in the next few months."
"While the Auckland market has slowed, we're still seeing huge demand for properties which make a great first step onto the property ladder or a good investment." Contributing to the overall price fall was a 7 per cent rise in new listings in the Auckland region.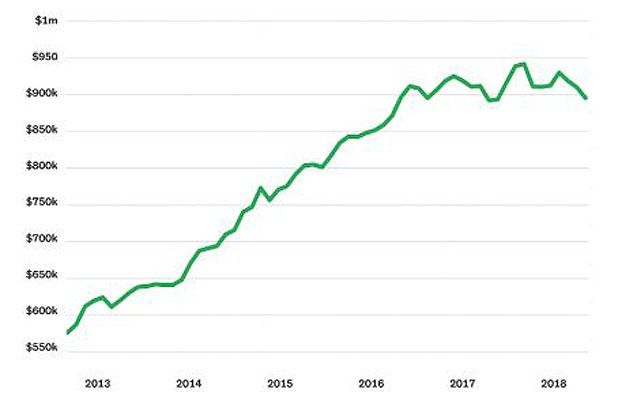 SUPPLIED – The five-year trend in Trade Me's Auckland property price index.
While prices fell in the Auckland region, Nelson/Tasman had a new record asking price of $595,500 – up 12 per cent on last year – while in Hawke's Bay the price was up 23 per cent to $545,100.
In Wellington, the average asking price was $581,500. Central Wellington had the most popular property on Trade Me last month – a one-bedroom apartment which received 158 enquiries.
"The Wellington property market is showing no sign of slowing down, even at this time of year when we expect prices to dip. "The coming six months will be an interesting time for the capital and we could see average asking prices crack $600,000 for the first time," Jeffries said.​
 Source – Stuff